What Are the Biggest Distractions to Drivers?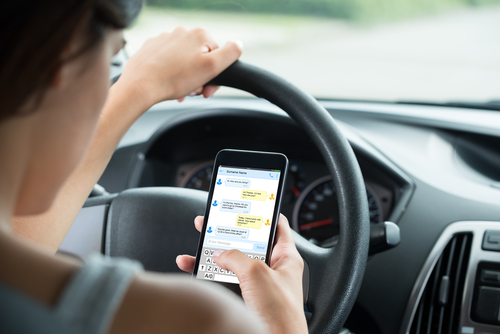 Distracted driving is one of the most common causes of auto accidents. Distracted driving occurs whenever a driver takes a hand or both hands off the steering wheel, takes their eyes off the road, and/or focuses their attention and mental effort on something other than the task of driving. Even a distraction lasting just a few seconds may be enough for a distracted driver to cause an accident. With the proliferation of technology over the past couple of decades, drivers have more potential distractions than ever before. Here are some of the most common distractions that drivers engage in while on the road. 
Cell Phones
Today, nearly every person owns an internet-capable smartphone. These phones can allow drivers to text, email, or browse social media or the internet while behind the wheel. As a result, cell phones have quickly become one of the leading contributing causes to motor vehicle accidents. In response, most states have adopted laws that prohibit drivers from using their cell phones except in a hands-free mode.
Drivers should avoid using a cell phone with their hands while driving, and instead should only use the phone's voice-activated features. If using a cell phone for navigation, a driver should input their destination before setting off, turn on the volume to hear audio directions, and should have the phone mounted as close to eye level as possible.
Navigation Systems
In addition to navigation features on smartphones, drivers may also have the option of using a GPS navigation device or using the navigation system built directly into their vehicle. As with cell phones, drivers should always input their destination before setting off and turn the audio on to hear spoken directions. Portable GPS navigation devices should also be mounted as close to eye level as possible so drivers do not need to look away from the road.
Passengers and Pets
Having passengers and pets in the vehicle can be a source of distraction for motorists. Younger drivers can easily become distracted while interacting with friends in the vehicle. Even older, more experienced drivers may be distracted by a crying baby or toddler or by a pet moving about the vehicle.
Daydreaming
Drivers can become distracted by letting their minds wander to start thinking about things other than the task of driving. Daydreaming most frequently occurs for drivers when they are on long road trips. Driving near one's home or on a familiar route (such as driving to work) may also cause a driver to engage in "autopilot" mode and stop focusing on the task of driving.
Vehicle Controls/Infotainment System
Drivers may be distracted when they try to adjust their radio or climate control while on the move. Many newer vehicles are also equipped with infotainment systems, some of which have massive, table-like screens that even have internet connectivity. Drivers should avoid adjusting vehicle controls or the infotainment while on the move; instead, only try to adjust settings while pulled over or stopped at a light.
Reading
Surprisingly, some drivers will even choose to read a paper, magazine, or book while driving, especially if they are stuck in rush hour traffic. But it goes without saying that reading is too much of a distraction for any driver. 
Grooming
Finally, some drivers may also be distracted by grooming, including looking in the rear-view mirror or a vanity mirror to comb hair or apply makeup. Drivers may even change clothes, take off jackets, or put on a tie while driving.
Contact an Edison Personal Injury Lawyer to Discuss Your Distracted Driving Accident Case in New Jersey
Did you or a loved one sustain serious injuries due to a distracted driving accident in New Jersey? Don't let the medical bills pile up while you wait for the negligent party or their insurance company to do the right thing. Right now, you need an aggressive personal injury attorney on your side, fighting to get you the compensation you need, want, and deserve. The skilled attorneys at Lombardi and Lombardi, P.A. represent clients injured because of distracted driving accidents in Woodbridge, Old Bridge, Piscataway, New Brunswick, and throughout New Jersey. Call (732) 906-1500 or fill out our online contact form to schedule a free consultation about your case. We have an office conveniently located at 1862 Oak Tree Road, Edison, NJ 08820, as well as offices in Edison, Brick, Freehold, and Point Pleasant Beach.
The articles on this blog are for informative purposes only and are no substitute for legal advice or an attorney-client relationship. If you are seeking legal advice, please contact our law firm directly.