Bicyclists at Greater Risk in Summer Months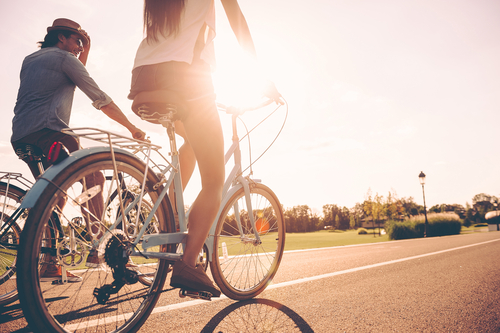 More and more people are taking up bicycling as a form of transportation or just a way to exercise or enjoy some recreation. In New Jersey, people are much more likely to get on their bicycles in the summer due to the warm weather. With more bicyclists on the road, other factors common to summer make the risk of bicycle accidents increase in the summertime. 
Summer Bicycle Accident Statistics
According to the National Highway Traffic Safety Administration, there were 846 bicyclists killed nationwide in 2019. Fatal bicycle accidents are more likely to occur between the hours of 6 p.m. and 9 p.m. Seventy-eight percent of all bicycle accident fatalities occur in urban and suburban areas. Men are six times as likely to be killed in a bicycle accident. And surprisingly, one in four fatal bicycle accidents involved a bicyclist who was intoxicated. 
Why Bicycle Accident Rates Go Up in the Summer
Bicyclists face higher risks of accidents in the summer for several reasons, such as:
Increased vehicular traffic – The summer months see an increase of traffic of all kinds, as people are more likely to be out and about or traveling. More vehicles on the road means more opportunities for collisions. 
Visiting drivers – Summer means tourists and visitors who may not be familiar with the area. These drivers may be more focused on figuring out where they are going than on looking out for bicycles.
Inexperienced teen drivers – Because teenagers are out of school for the summer, they have more opportunities to get out and drive. However, teens often lack the experience necessary to safely share the road with bicyclists, putting bike riders at risk of an accident. 
Drunk drivers – People are more likely to go out or to attend picnics, barbecues, parties, and other events in the summer where they may consume alcohol. In some cases, people who have consumed alcohol while out will make the decision to then get behind the wheel while intoxicated, putting bicyclists and other on the road at risk of an accident
How Bicyclists Can Protect Themselves on the Road
Bicycle riders can take steps to reduce their risk of an accident, such as:
Always wear a helmet, along with other protective gear such as knee and elbow pads.
Wear brightly colored or reflective clothing, or add reflective materials to your helmet and clothing.
Always ride with lights on your bike and/or helmet at night to help make you more visible to other drivers.
Follow all traffic laws, including stopping at all stop signs and red lights. Remember to use hand signals to indicate turns and lane changes to other drivers.
Steps Drivers Can Take to Avoid Causing Bicycle Accidents
Drivers can also help avoid causing bicycle accidents by:
Always check mirrors and blind spots before turning or changing lanes to look out for bicycles coming up from behind.
Make sure to leave extra space when passing a bicyclist on the road.
Use a far-hand reach when opening a door after parking on the street, since this positions the body to look backwards for an oncoming bicyclist.
Contact a Edison Personal Injury Lawyer to Discuss Your Bicycle Accident Case in New Jersey
Did you or a loved one sustain serious injuries due to a bicycle accident in New Jersey? Don't let the medical bills pile up while you wait for the negligent party or their insurance company to do the right thing. Right now, you need an aggressive personal injury attorney on your side, fighting to get you the compensation you need, want, and deserve. The skilled attorneys at Lombardi and Lombardi, P.A. represent clients injured because of bicycle accidents in New Brunswick, Perth Amboy, Middletown, Howell, and throughout New Jersey. Call (732) 906-1500 or fill out our online contact form to schedule a free consultation about your case. We have an office conveniently located at 1862 Oak Tree Road, Edison, NJ 08820, as well as offices in Edison, Brick, Freehold, and Point Pleasant Beach.
The articles on this blog are for informative purposes only and are no substitute for legal advice or an attorney-client relationship. If you are seeking legal advice, please contact our law firm directly.