Can I File a Claim if I Was Injured by Flying Debris From a Car Accident?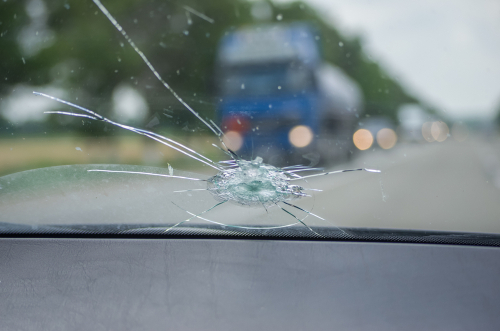 While car accidents are typically thought of as just causing injury to those involved in the actual collision, they can also cause injury to bystanders who may be hit with flying debris, such as shattered glass, metal shards, or other materials or loose objects. 
A person who is injured by flying debris from a car accident deserves to be compensated for his or her injuries just as much as the people injured in the collision itself and should take the time to learn and understand his or her legal options for pursuing compensation.
Flying Debris in Car Accidents
Flying debris from car accidents can cause more injuries beyond those caused by the force of the impact. For example, heavy or sharp objects may go flying into the passenger compartment of a vehicle involved in the collision, injuring those inside or debris may fly out from the point of the impact, injuring others who are simply nearby the collision. 
A vehicle may crash into objects along the roadway, such as guard railings, signposts, street lamps, benches, etc., accidentally sending those objects or pieces of them flying towards innocent victims.
Common Injuries Caused by Flying Debris
The injuries that are caused by flying debris will often depend on the type of debris. Small, tiny debris like broken glass is more likely to cause various lacerations to the person or persons impacted by the debris. Large, heavy debris like tires can cause blunt-force trauma injuries such as broken bones, soft-tissue injuries, neck and back injuries, and head or traumatic brain injuries. Conversely, sharp debris can penetrate into a victim like a knife or a bullet, causing internal organ damage, internal bleeding, or traumatic amputations. 
Pursuing Compensation for Flying Debris Injuries
Typically, a person injured by flying debris from a car accident will seek to hold the driver at fault for causing the crash responsible for providing compensation for injuries and damages. 
Of course, pursuing compensation for flying debris injuries from a car accident is much harder when you weren't in one of the vehicles involved in the crash. You may need eyewitness testimony or surveillance video footage to prove that you were near the scene of the crash and that you were hit by debris created by the collision. 
Someone injured by flying debris from a car accident may be entitled to recover compensation for damages such as medical expenses, lost wages or earning potential, and pain and suffering and lost quality of life caused by his or her injuries. It's important to have an experienced personal injury lawyer on your side to negotiate with the insurance company on your behalf to try to reach a settlement, especially since there are likely other parties seeking to recover compensation on the same insurance policy, so you will want to ensure you receive compensation before those policy limits are reached.
Contact a Edison Personal Injury Lawyer to Discuss Your Car Accident Case in New Jersey
Did you or a loved one sustain serious injuries due to a car accident in New Jersey? Don't let the medical bills pile up while you wait for the negligent party or their insurance company to do the right thing. Right now, you need an aggressive personal injury attorney on your side, fighting to get you the compensation you need, want, and deserve. The skilled attorneys at Lombardi and Lombardi, P.A. represent clients injured because of car accidents in Woodbridge, Old Bridge, Piscataway, New Brunswick, and throughout New Jersey. Call (732) 906-1500 or fill out our online contact form to schedule a consultation about your case. We have an office conveniently located at 1862 Oak Tree Road, Edison, NJ 08820, as well as offices in Brick, Freehold, and Point Pleasant Beach.
The articles on this blog are for informative purposes only and are no substitute for legal advice or an attorney-client relationship. If you are seeking legal advice, please contact our law firm directly.