How to Handle The Most Common Workplace Injuries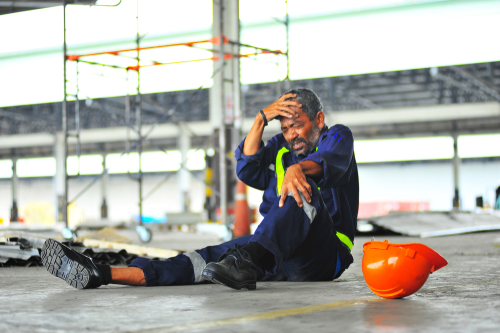 Workplace injuries are always a possibility, but some industries tend to have a higher rate of injuries, as well as a higher likeliness of certain injuries.
The Most Common Workplace Injuries
The most common workplace injuries include:
Overexertion: This includes non-impact injuries, like injuries to muscles and ligaments. It may also include repetitive motion injuries, like sprains or tendinitis.
Slip and falls: Slip and falls commonly occur in slippery work environments and can lead to back and neck injuries. They can also cause concussions or brain injuries.
Contact with objects and other equipment: Injuries can also occur from sudden impact with objects, like heavy machinery or vehicles. Heavy objects can also fall on employees.
These injuries make up the majority of workplace injuries. However, other injuries may include car accidents, violence, exposure to dangerous chemicals, and fires or explosions.
How to Handle a Workplace Injury
One of the first things you should do following a workplace injury is to receive immediate medical care. Document your medical care and notify your employer. Then, you will want to take the following steps:
Report the injury: Once it is safe to do so, you will need to officially report the injury. You should be eligible for workers' compensation benefits.
Follow the representative's directions: You will likely be assigned a workers' compensation representative, who will inform you of what paperwork to file and when.
Stay in communication with your employee: It is also a good idea to stay in constant communication with your employer. Inform them of when, and if, you plan to return to work. If you believe you will be taking an extended break from work, inform them of this also.
Focus on your recovery: Recovering from a workplace injury can be long-lasting. You may have to undergo medical treatments or even attend physical therapy, depending on the extent of your injury. Focus on your recovery during this time. Your workers' compensation representative should handle everything and work with you in submitting your claim.
If workers' compensation works as it should, you should have your medical bills and lost wages covered. However, this does not always go as it should. If you have a hard time getting your workers' compensation claim approved, then you might consider reaching out to a workers' compensation lawyer.
If workers' compensation denies your claim, they may tell you why. In some cases, you may just need to submit additional proof of documentation. But, in other cases, they may try to minimize your injury in an attempt to not pay as much to you. Additionally, if your employer didn't have coverage when you were injured, and they were legally required to, you may have other options available to collect the compensation you need.
Protect Your Worker Rights
Workers' compensation is designed to protect employees in the event that they become injured while on the job. You shouldn't feel bad about using your benefits, and you shouldn't have a hard time accessing them either. You may find that working with a workers' compensation lawyer is what you need to get the benefits that you deserve.
Contact a Woodbridge Workers' Compensation Lawyer to Discuss Your New Jersey Workplace Injury Case
A workplace injury can be devastating, particularly if it prevents you from returning to work for an extended period of time. Although New Jersey Workers' Compensation laws are supposed to provide you with reimbursement for medical expenses and replacement pay for missed time at work, it is not always easy to get the Workers' Comp benefits you deserve. That is why you should speak with a knowledgeable Workers' Compensation lawyer about your situation and get guidance throughout the claims process. The experienced Workers' Compensation attorneys at Lombardi and Lombardi, P.A. represent clients in Edison, Woodbridge, Old Bridge, Piscataway, and all across New Jersey. Call (732) 906-1500 or fill out our online contact form today to schedule a free consultation about your work injury case. Our main office is located at 1862 Oak Tree Road, Edison, NJ 08820 and we also have offices in Brick, Freehold, and Point Pleasant Beach, NJ.
The articles on this blog are for informative purposes only and are no substitute for legal advice or an attorney-client relationship. If you are seeking legal advice, please contact our law firm directly.