Important Steps to Take Following a Slip and Fall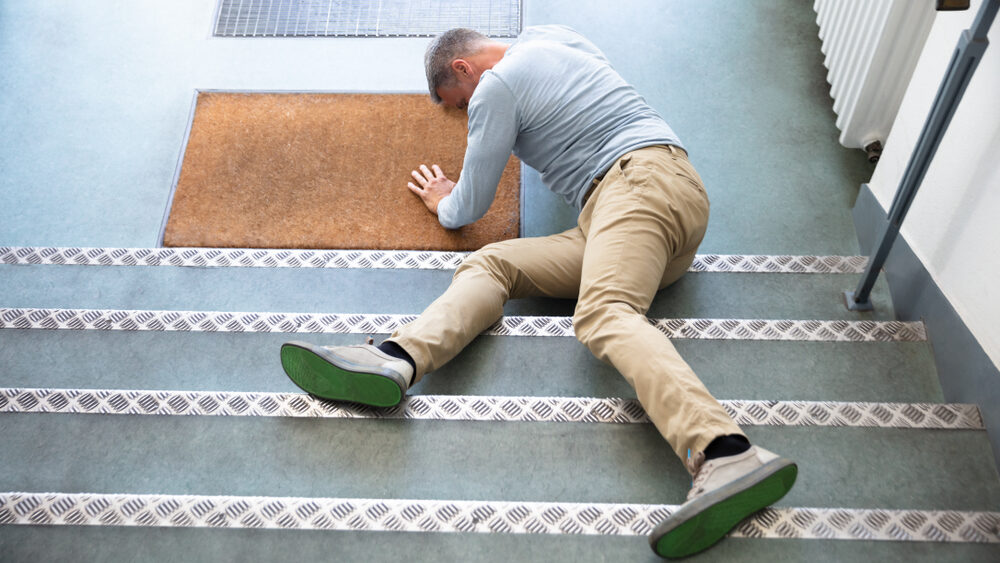 If you or a loved one fell and got injured on somebody else's property, it's important to look into your options for compensation to help with medical costs. These include insurance claims and filing a lawsuit, but both options require you to act quickly.
The most important thing after a slip and fall accident is to prove that the accident was the fault of another party. For example, buildings in bad repair or tripping hazards can cause serious slip and fall injuries.
New Jersey follows shared fault laws, which means that the other party could claim you were also partly at fault for the accident. That's why it's important to consult experienced personal injury lawyers for help with slip-and-fall insurance claims or lawsuits.
Do This After a Slip and Fall Accident in NJ
Lombardi & Lombardi attorneys have amassed decades of experience between them in litigating slip and fall accidents. Here are the five most important steps they say you should take after a slip and fall accident.
Get medical treatment immediately
Your immediate concern is to get medical attention. Even if the fall may not feel serious, there could be hidden or internal injuries that become apparent later. A doctor will check your injuries and show that they were the direct result of a fall, which will be vital to avoid disputes when seeking compensation.
If you delay getting medical treatment, you open a window for the other party to claim that your injuries were pre-existing or were caused by something else.
Report your accident to the business management
The second most important step is to file an incident report with the business or property owner as soon as you can after the incident. This is important documentation that shows that the incident happened, where and when it occurred, and why.
You should be as detailed as possible in the report, and ask to keep a copy. If there are security cameras in the building, request video footage as well or ask management to preserve that footage. Otherwise, the storage will be overwritten or deleted.
Collect evidence to determine fault
In addition to the incidence report, it's important to collect any information and documentation that could help with your insurance claim or lawsuit. That includes:
Photos and videos of the area where you fell and the surroundings
Contact information of those who helped you or witnessed the incident
Start a journal of everything that happens to you to preserve your memory of the incident, making sure to include all the details you can
Retain the clothes and shoes you wore as evidence
While at it, don't give any information to the property owner or adjusters from their insurance carrier. It's easy to incriminate yourself in a recorded statement or personal opinion, especially given the high emotions following the incident. Stay calm and politely decline until you have talked to an attorney.
Contact a personal injury attorney
Consult an experienced personal injury attorney as soon as you can after the incident. Your attorney will help you determine what options you have and handle the legal side of things as you get treatment for your injuries.
This is especially important because insurance adjusters may call to negotiate a settlement. A veteran lawyer can get you a much better settlement, even if you were partly at fault for the accident. They will also help you collect more documentation to help with the insurance claim.
Filing a Lawsuit After a Slip and Fall Accident
Personal injury cases fall under New Jersey premises liability law. To have a valid case, you need to prove that:
Someone else had a duty to ensure your safety on their premises (for example, you were a guest, employee, or customer)
This person failed to fulfill that duty of care through negligence or wrongdoing
This failure caused your slip and fall accident and subsequent injuries
You have two years from the date of the accident to file a lawsuit. Determining the value of that lawsuit can be hard, but it should cover medical treatment costs, any financial loss due to lost wages (current and future), as well as damages for pain and suffering. If you decide to sue, your best bet is to contact a skilled personal injury lawyer in New Jersey to represent and guide you.
How an Edison Personal Injury Lawyer Can Help After a Slip and Fall Accident in New Jersey
Lombardi & Lombardi attorneys are some of the top personal injury lawyers in New Jersey, particularly in Toms River, Edison, Brick, and Freehold. In addition to their proven expertise and experience, the firm is loved for its friendly, client-first approach to all cases.
If you've had a slip and fall accident and are wondering what your legal options are, let our attorneys help you. Call now or contact us online to schedule your free consultation. The skilled attorneys at Lombardi and Lombardi, P.A. represent clients injured in Woodbridge, Old Bridge, New Brunswick, Piscataway, and throughout New Jersey. Call (732) 906-1500 or fill out our online contact form to schedule a free consultation about your case. We have an office conveniently located at 1862 Oak Tree Road, Edison, NJ 08820, as well as offices in Edison, Brick, Freehold, and Point Pleasant Beach.
The articles on this blog are for informative purposes only and are no substitute for legal advice or an attorney-client relationship. If you are seeking legal advice, please contact our law firm directly.