Who is Liable for a Scaffolding Accident?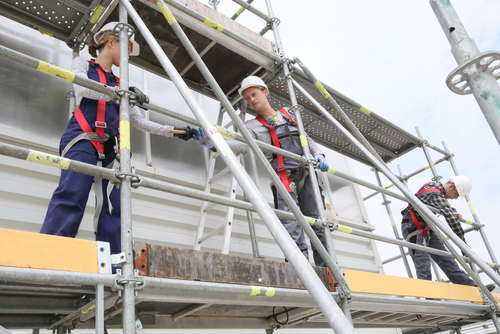 While construction is one of the most necessary industries out there, it's also one of the most dangerous. The Bureau of Labor Statistics (BLS) estimates that there are approximately 150,000 construction accidents each year. One of the most common construction site injuries are the result of a scaffolding accident. Statistics from BLS state that there are approximately 4,5000 injuries and 60 deaths that occur each year as a result of a scaffolding accident. Lean more about how these accidents happen and who you can hold responsible in the case of an accident. 
What is a Scaffold?
A scaffold is a temporary structure that supports a working platform. Most often used on construction sites, these scaffolds are meant to aid in the construction or repair of buildings, bridges and other types of structures when a construction worker is unable to get back to ground level. 
The Occupational Safety and Health Administration (OSHA) outlines various safety regulations for these types of structures. As such, a scaffold should:
Be able to support at least four times its weight
Not be supported by loose objects such as brick or barrels
Should not have an accumulation of tools or other materials
Should have planks that extend over the edge by at least 6 to 18 inches
Should have overhead protection when work is being conducted overhead
Should have planking that overlaps by at least 12 inches
How Do Scaffolding Accidents Occur?
The most common causes of a scaffolding accident include:
Slipping or tripping due to wet surfaces, insufficient planking, unsafe incline or insufficient training
Failing objects hitting a worker either on the scaffold or underneath it
The planking was defective, gave way or damaged, resulting in falls
As such, construction workers injured in a scaffolding accident may suffer from broken bones, paralysis, spinal cord injuries, organ damage, traumatic brain injuries and lacerations. 
Who is Liable for a Scaffolding Accident?
Like all personal injury cases, three major elements must be proven in order to move forward with a claim. First, it must be proved that the defendant owed a duty of care to the plaintiff (worker). Second, it must be proved that the defendant violated this duty of care and that the plaintiff's injuries are a direct result of the violation. Third, the plaintiff's injuries must be able to be financially compensated. These damages can include medical bills, missed time off work and pain and suffering. 
Depending on the details of your case, any of the following parties may be liable for a construction site accident:
Contractors or subcontractors
Owner of the construction site
Engineers
Architects
Equipment/machinery manufacturers
If you or someone you love was injured in a construction accident, the attorneys at Lombardi & Lombardi, P.A. can help. We will investigate the details of your case to determine who's liable and advocate for your rights to compensation.
Contact An Edison Personal Injury Lawyer To Discuss Your Construction Accident Case In New Jersey
Did you or a loved one sustain serious injuries due to a construction accident in New Jersey? Don't let the medical bills pile up while you wait for the negligent party or their insurance company to do the right thing. Right now, you need an aggressive personal injury attorney on your side, fighting to get you the compensation you need, want, and deserve. The skilled attorneys at Lombardi & Lombardi, P.A. represent clients injured because of construction accidents in Middlesex, Monmouth, Ocean, Somerset, and Union Counties and throughout New Jersey. Call 732-564-7165 or fill out our online contact form to schedule a consultation about your case. Lombardi & Lombardi, P.A. has two offices conveniently located in Edison New Jersey, as well as offices in Brick, Freehold and Point Pleasant. The main office of Lombardi and Lombardi, P.A. is at 1862 Oak Tree Road, Edison, NJ 08820.
The articles on this blog are for informative purposes only and are no substitute for legal advice or an attorney-client relationship. If you are seeking legal advice, please contact our law firm directly.