Most Common Office Injuries (And How to Avoid Them)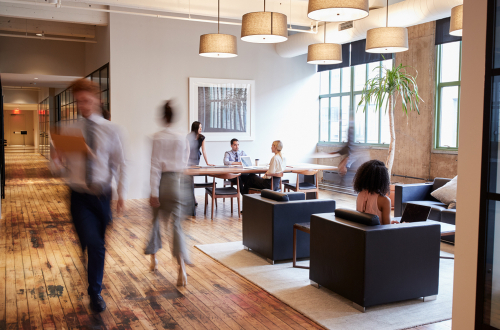 Although an office may not be as dangerous a workplace as a construction site or a factory, officer workers do face risks of injury on the job. Below are some of the most frequently occurring injuries for office workers and some tips that employers and employees can follow to help reduce the risk of those accidents and injuries happening.
Falls
Falls, including slip and falls, trip and falls, and falls from heights, represent the most common workplace accident in offices. And according to the Centers for Disease Control, falls are most frequently responsible for causing disabling injuries for office workers. Some of the most common causes of falls in the office include tripping over wires or furniture, using a chair rather than a ladder, wet floors due to mopping or spilled liquids, and inadequate lighting.
Steps that offices can take to help workers avoid falls include:
Workers should always look where they are walking to ensure there are no obstructions or hazards
Drawers or cabinet doors should be kept closed when not retrieving something from inside
Loose wires or cord or torn carpeting or rugs should be fixed as soon as possible, while spills should also be promptly cleaned up
Workers should be provided with stepladders if they need to reach a high shelf, so that they don't resort to using a chair
Lifting Injuries
Office workers can easily injure themselves by improperly lifting even moderately heavy objects, as they normally do not receive formal training in lifting techniques. Lifting injuries in the office can be avoided by:
Training workers on proper lifting techniques, including lifting with the legs rather than the back
Encouraging workers to ask for help from co-workers with lifting heavier objects
Providing lifting assistance equipment in the workplace if workers are required to regularly carry heavy objects
Equipment/Machinery Injuries
Office workers frequently injure themselves by getting caught in furniture, cabinets, or pieces of office equipment like copiers, laminators, or shredders. Injuries from office equipment, machinery, or furniture can be avoided by:
Instructing workers to always stay alert, watching where they are placing their hands or fingers
Keeping ties, jewelry, or hair away from machinery
Installing safety guards on equipment or machinery that poses a risk of an entanglement accident
Repetitive Stress Injuries
Repetitive stress injuries are an injury that is commonly suffered by office workers. When office workers have to work at a workstation that does not properly fit, it can lead to musculoskeletal injuries over time. Office workers can help prevent repetitive stress injuries by:
Ensuring that their workstation is set up so that their thighs are horizontal with the floor, their feet are flat on the for, and that their elbows naturally sit at a 90 degree angle and their wrists are straight
Putting computer monitors up at eye level
Using a document holder to keep papers you need to refer to up at eye level as well
Remembering to look away from the computer monitor frequently throughout the day
Getting up for a quick stretch every half-hour to hour
Contact an Edison Workers' Compensation Lawyer to Discuss Your New Jersey Workplace Injury Case
A workplace injury can be devastating, particularly if it prevents you from returning to work for an extended period of time. Although New Jersey Workers' Compensation laws are supposed to provide you with reimbursement for medical expenses and replacement pay for missed time at work, it is not always easy to get the Workers' Comp benefits you deserve. That is why you should speak with a knowledgeable Workers' Compensation lawyer about your situation and get guidance throughout the claims process. The experienced Workers' Compensation attorneys at Lombardi and Lombardi, P.A. represent clients in Woodbridge, Old Bridge, Piscataway, New Brunswick, and all across New Jersey. Call (732) 906-1500 or fill out our online contact form today to schedule a free consultation about your work injury case. Our main office is located at 1862 Oak Tree Road, Edison, NJ 08820, and we also have offices in Edison, Brick, Freehold, and Point Pleasant Beach.
The articles on this blog are for informative purposes only and are no substitute for legal advice or an attorney-client relationship. If you are seeking legal advice, please contact our law firm directly.