National Traffic Fatalities Increase Despite Less Drivers on the Road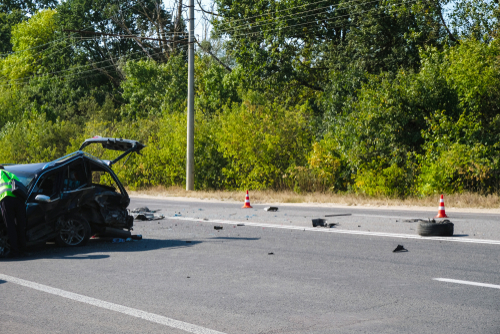 The pandemic has changed many aspects of life as we know it. In addition to the closure of many workplace and entertainment spaces, traffic on the roads has also significantly reduced. This is due to the fact that more people are working and going to school from home. However, despite reduced traffic rates on the road, there has still been an increase in traffic deaths. 
The latest statistics are worrisome to some, while others wonder why. What has contributed to the increase in deaths? Can we expect these numbers to decrease?
Read more: Who Is Responsible For A Multi-Vehicle Accident?
National Reports
The National Highway Traffic Safety Administration (NHTSA) reports occurrences of accidents and traffic deaths each quarter. This quarter, they reported that rates had increased by 13.1%, which is the highest rate since the year 2008. This drew the attention of local groups, like the Governor's Highway Safety Association.
It was estimated that rates would increase by 4.6% in the first nine months of the year. So, these numbers are especially surprising. Many authorities express their frustration because many of these accidents can be prevented.
Just a few of the top reasons for traffic fatalities included:
Speeding over 100 mph
Not wearing seatbelts
Driving under the influence
Increases in aggressive driving
Reports have also found that while traffic rates dropped as much as 50% right after the pandemic started, the rates have increased. In fact, traffic numbers are increasing rapidly as of lately.
Read more: Does An Accident Reconstruction Have To Be Completed After My Car Accident?
How to Prevent Traffic Fatalities
With traffic fatalities increasing in record numbers, many officials are focused on how to reduce these numbers. The immediate consideration is that an increase in police enforcement will help. Police officers can identify people who are speeding or driving under the influence, stopping them before an accident occurs.
Other ways to prevent car accidents might include:
Increased awareness: Drivers who are more aware of the dangers of the road and the increase in accidents are more likely to drive safer.
Evaluation of dangerous areas: Some areas and roads tend to be riskier than others. Local officials will need to evaluate these areas.
Alcohol checkpoints: Alcohol checkpoints, especially on big drinking holidays, can increase the number of police on the road.
Seatbelt checkpoints: Not using seatbelts can also lead to more severe car accidents. With numerous seatbelt checkpoints, police can identify them earlier.
These are just a few of the things that city officials can do to help decrease rates again. However, it is also on the driver to do their duty and drive in a safe way. Drivers should avoid distractions and find other transportation choices when drinking. They should always wear a seatbelt and avoid aggressive driving.
When to Contact a Lawyer Following a Car Accident
Car accidents can be expensive. They can lead to costly medical bills and lost wages. If you are in a car accident that leads to life-changing injuries or loss of life, then it may be beneficial to reach out to a car accident lawyer today. A lawyer can evaluate the details of your case and decide if you are eligible for compensation.
Contact an Edison Personal Injury Lawyer to Discuss Your Car Accident Case in New Jersey
Did you or a loved one sustain serious injuries due to a car accident in Edison? Don't let the medical bills pile up while you wait for the negligent party or their insurance company to do the right thing. Right now, you need an aggressive personal injury attorney on your side, fighting to get you the compensation you need, want, and deserve. The skilled attorneys at Lombardi and Lombardi, PA represent clients injured because of a car accident in Edison, Woodbridge, Old Bridge, Piscataway, and throughout New Jersey. Call (732) 906-1500 or fill out our online contact form to schedule a free consultation about your case. We have an office conveniently located at 1862 Oak Tree Road, Edison, NJ 08820, as well as offices in Edison, Brick, Freehold, and Point Pleasant Beach, NJ.
The articles on this blog are for informative purposes only and are no substitute for legal advice or an attorney-client relationship. If you are seeking legal advice, please contact our law firm directly.