An Overview of the Most Common Car Accident Injuries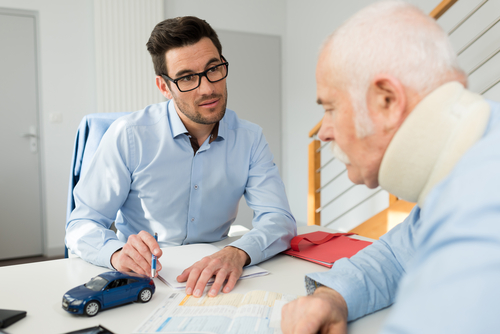 In the famous words of Isaac Newton, an object in motion stays in motion until acted upon by an outside force. When that force is another speeding vehicle, your body goes from traveling at the speed of your car to a complete stop very quickly. As you can imagine, the fallout can lead to injuries. Learn about the most common types of car accident injuries below.
1. Head Injuries
Our brains are protected by our skulls, but the brain is a fairly frail organ. Any type of head injury, like getting hit or a laceration, can lead to significant cognitive problems. Car accidents are one of the leading causes of traumatic brain injuries due to the impacts of a crash. In a collision, your head may smash against the dashboard or steering wheel. If it hits window or windshield, then there's a good chance that you could suffer cuts to your head.
Head injuries range from mild to severe, and they can cause a wide range of symptoms. From vision loss to confusion, your entire body's functioning relies on your brain. When the head injury is severe, you may even start to experience personality changes or difficulty breathing. Always get checked out by a medical professional after an accident to ensure your brain wasn't impacted by the crash.
2. Neck, Back and Spine Injuries
Neck, back and spine injuries are also common after motor vehicle accidents. Whiplash occurs when the sudden front and back motion of an accident damages your neck muscles and ligaments. If you suffer whiplash, then your mobility will be impacted, and you could suffer significant pain. Learn more about whiplash injury claims here.
Back injuries occur when the spinal cord is affected. If you're suffering from a back injury, then you can expect to endure:
Muscle weakness
Pain (can stem from the neck, back, arms or legs)
Numbness
Tingling sensations throughout the body
In severe cases, an individual can become paralyzed due to an accident-related back injury.
3. Arm, Leg, Hand or Foot Injuries
Your arms, legs, hands, and feet are all vulnerable in a crash. Your appendages could get trapped between objects, suffer lacerations from flying glass or get crushed by the force of a collision. Broken bones, fractures, cuts and bruises are all common after accidents.
Contact an Edison Personal Injury Lawyer to Discuss Your Car Accident Injury Case in Pennsylvania
Did you or a loved one sustain serious injuries due to a car accident in Pennsylvania? Don't let the medical bills pile up while you wait for the negligent party or their insurance company to do the right thing. Right now, you need an aggressive personal injury attorney on your side, fighting to get you the compensation you need, want, and deserve. The skilled attorneys at Lombardi and Lombardi, P.A. represent clients injured because of car accidents in Edison, Freehold, Brick, Point Pleasant, and throughout Pennsylvania. Call 732-564-7165 or fill out our online contact form to schedule a free consultation about your case. We have an office conveniently located at 1862 Oak Tree Road, Edison, NJ 08820 and we also have offices in Freehold, Brick, Point Pleasant.
The articles on this blog are for informative purposes only and are no substitute for legal advice or an attorney-client relationship. If you are seeking legal advice, please contact our law firm directly.