Common Causes of Work Zone Car Accidents in NJ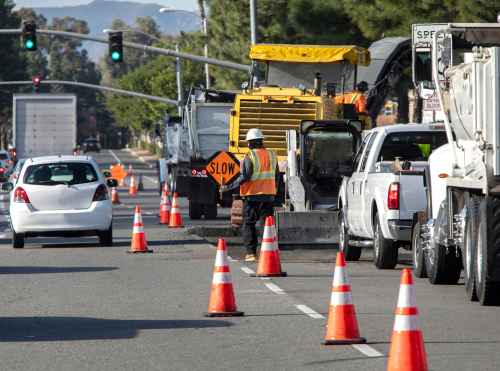 Roads and highways are often under construction, either to build new stretches of road or to add lanes or even just to repair winter weather damage and wear and tear on the roadway. Governments prefer to keep roads under construction or repair as open as possible for motorists, which means that road construction workers must work in close proximity to moving vehicles. Work zones that redirect traffic can also easily confuse motorists. As a result, work zones rank among one of the most dangerous places in the country for both workers as well as drivers.
How Drivers Cause Work Zone Car Accidents?
Work zones require drivers to slow down through the area, as road works often involve shifting or narrowing lanes and other temporary alterations to traffic patterns. However, these temporary changes may confuse or distract a motorist, who may be used to the normal traffic pattern on the road. Some of the most common causes of work zone car accidents caused by drivers include:
Speeding
Tailgating, or following too closely
Failing to yield the right of way
Unsafe lane changes, including failing to signal or check mirrors and blindspots
Distracted driving, including cell phone use while driving
Drowsy or fatigued driving
Driving under the influence of alcohol and/or drugs
Because illegal or unsafe driver behaviors puts construction workers and motorists and passengers at risk of an accident, traffic ticket fines are usually multiplied when the infraction occurs in a road work zone.
Ways that Construction Workers Can Stay Safe in Work Zones
When states conduct road works, some of the ways that they try to keep construction workers safe from car accidents include:
Scheduling construction work to take place at night or during times of lesser traffic
Requiring workers to wear high visibility vests and personal protective equipment
Where possible, placing temporary concrete barriers to separate the work zone from moving traffic
Installing temporary signage that prepares motorists for changes to traffic patterns, such as lane closure or lane shifts and detours
Utilizing law enforcement to patrol work zones, which can deter motorists from engaging in unlawful or unsafe behavior while driving through work zones.
What Are Your Legal Options if You Were Injured by a Work Zone Car Accident?
A construction worker injured on the job in a road work zone may have several options for recovering compensation for their injuries, including filing a workers' compensation claim with their employer for benefits such as medical care and partial wage replacement, as well as pursuing a personal injury claim against the driver at fault for the accident.
If you are a motorist or passenger who was injured by another negligent or reckless driver causing a car accident in a work zone, you may be entitled to recover compensation for losses such as:
Vehicle repair bills
Costs of medical treatment or of long-term care for disabilities caused by your injuries
Lost wages or income, and loss of future earnings if you cannot work again
Pain and suffering
Lost enjoyment or quality of life
Contact a Edison Personal Injury Lawyer to Discuss Your Car Accident Case in New Jersey
Did you or a loved one sustain serious injuries due to a car accident in New Jersey? Don't let the medical bills pile up while you wait for the negligent party or their insurance company to do the right thing. Right now, you need an aggressive personal injury attorney on your side, fighting to get you the compensation you need, want, and deserve. The skilled attorneys at Lombardi and Lombardi, P.A. represent clients injured because of car accidents in Woodbridge, Old Bridge, Piscataway, New Brunswick, and throughout New Jersey. Call (732) 906-1500 or fill out our online contact form to schedule a free consultation about your case. We have an office conveniently located at 1862 Oak Tree Road, Edison, NJ 08820, as well as offices in Edison, Brick, Freehold, and Point Pleasant Beach.
The articles on this blog are for informative purposes only and are no substitute for legal advice or an attorney-client relationship. If you are seeking legal advice, please contact our law firm directly.