How Do I Get a Slip and Fall Settlement?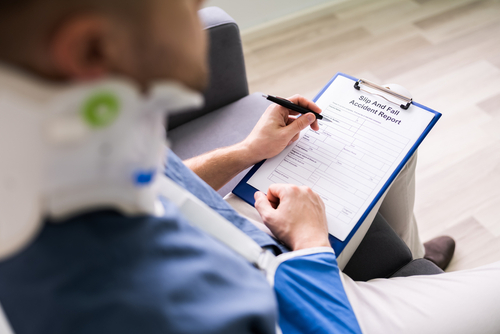 You never expect to slip and fall, injuring yourself when visiting a shop. A slip and fall accident can lead to high medical bills and lost wages. Additionally, it is not always clear who is responsible for these costs. The shop may try to limit its liabilities. In the meantime, you are left confused and in pain.
Important Steps to Take Following a Slip and Fall
In order to maximize your slip and fall injury settlement, you will want to take a few important steps following the accident. These include:
Seek medical care: Always seek medical care following a slip and fall accident, even if you feel fine. Document each procedure you receive.
File a report: Filing a report with the property owner and/or police is important to document the accident. You may need this for proof later if you decide to file a lawsuit.
Take pictures or video: If you fell due to a dangerous situation, try to get pictures of the danger. Videos can also be helpful.
Leave communication to your lawyer: If you experienced a significant injury, then you may want to reach out to an experienced personal injury lawyer. It may also be a good idea to avoid communication with anyone else during this time. The liable party may try to offer you a small settlement in return for signing away your rights to sue.
Always consider your options before proceeding. While a large-valued gift card to the shop may be tempting, you could be eligible for much more. Additionally, a gift card will not help with your medical bills. Many stores do this in an attempt to get you to sign away all of your legal rights, making you believe that you don't have them.
Ways a Personal Injury Lawyer Can Help You After Your Slip and Fall Accident
Your personal injury lawyer can be valuable to a slip and fall case for many reasons. Not only will they evaluate any agreements before signing them, but they can also help in the following ways:
Calculate the value of your case: It can be helpful to know the value of your case so you can accurately consider any settlement offers you receive. This includes all your damages.
Collect documents: You will need proof to file a personal injury case. Your lawyer can help you collect documents like medical records or witness reports.
Manage all communications: You shouldn't have to deal with constant communications with the insurance companies while recovering. Leave this to your lawyer.
Navigate your legal case: New Jersey laws are strict on how long you have to file a slip and fall case. This timeline can feel overwhelming while you are dealing with your injury. But, working with a personal injury lawyer can help you navigate these timelines while still focusing on your recovery. Allow a personal injury lawyer to help you navigate your case. 
If you slipped and fell while visiting a property, it is likely that the shop or owner was negligent in some way. Find out more about your options by talking with a lawyer today.
Contact an Edison Personal Injury Lawyer to Discuss Your Slip and Fall Case in New Jersey
Did you or a loved one sustain serious injuries due to a slip and fall in New Jersey? Don't let the medical bills pile up while you wait for the negligent party or their insurance company to do the right thing. Right now, you need an aggressive personal injury attorney on your side, fighting to get you the compensation you need, want, and deserve. The skilled attorneys at Lombardi and Lombardi, P.A. represent clients injured because of a slip and fall in Woodbridge, Piscataway, Perth Amboy, Howell, and throughout New Jersey. Call (732) 906-1500 or fill out our online contact form to schedule a free consultation about your case. We have an office conveniently located at 1862 Oak Tree Road, Edison, NJ 08820, as well as offices in Edison, Brick, Freehold, and Point Pleasant Beach, NJ.
The articles on this blog are for informative purposes only and are no substitute for legal advice or an attorney-client relationship. If you are seeking legal advice, please contact our law firm directly.