Light Duty Workers' Comp Claims: An Overview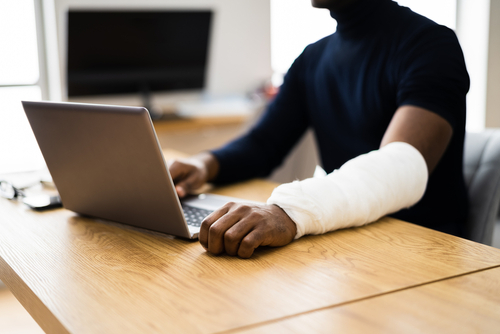 If you suffer a workplace injury or occupational illness but you can perform some type of work, possibly with reasonable accommodations, your employer may ask you to come back to work on light duty. Employers and their workers' compensation insurers prefer to have injured or ill employees come back to work on light duty to help reduce the cost of workers' comp benefits and get the worker back to contributing to the employer's business. 
If you are receiving workers' compensation and you are offered light-duty work, you should familiarize yourself with your rights and obligations and how light-duty work may affect your workers' compensation claim. 
What is Light Duty?
A light-duty assignment means that you are being asked to perform fewer duties than you were doing in your job prior to your work-related injury or illness. Light duty may take the form of coming back to work part-time, having your job duties modified to accommodate your medical restrictions, or going to work in a new position with your employer consistent with your restrictions.
Issues with Light Duty Assignments
Some examples of frequent issues and problems that come up with light-duty workers' comp claims include:
An employer offers a light duty assignment that the worker refuses after receiving a first or second medical opinion that does not clear the worker for that light duty assignment.
A light duty assignment is offered to a worker who has suffered a repetitive stress injury.
An employer may offer a "light duty" assignment that is actually incompatible with a worker's injury or condition. For example, a worker whose position requires heavy physical labor may be offered a sedentary position, but the worker's injury is in fact aggravated by extended periods of sitting.
The worker may be offered a light duty position that they lack the skills or training to successfully perform.
Employers and workers may get into a dispute over income benefits if a worker takes a light duty position, if the worker believes they are earning less income than they did prior to their injury.
A light duty position may end up worsening an injury or causing a re-injury, which may require reopening the claim.
Are You Entitled to Light Duty?
Under the workers' compensation law in New Jersey, you are required to accept a light-duty assignment if your employer offers it to you and your doctor clears you to perform the assignment. If you refuse a light-duty assignment, your employer may have grounds to terminate your workers' compensation benefits and your employment.
Even if you have the capacity to perform light duty work, your employer is not required to offer you a light-duty assignment. While your employer is obligated to pay workers' compensation benefits, your employer is not required to maintain your employment if it needs to fill your position with an able-bodied worker. However, you may be entitled to return to your old position if your doctor clears you to perform all the required duties of the position (with reasonable accommodation).
Contact an Edison Workers' Compensation Lawyer to Discuss Your New Jersey Workplace Injury Case
A workplace injury can be devastating, particularly if it prevents you from returning to work for an extended period of time. Although New Jersey Workers' Compensation laws are supposed to provide you with reimbursement for medical expenses and replacement pay for missed time at work, it is not always easy to get the Workers' Comp benefits you deserve. That is why you should speak with a knowledgeable Workers' Compensation lawyer about your situation and get guidance throughout the claims process. The experienced Workers' Compensation attorneys at Lombardi and Lombardi, P.A. represent clients in Woodbridge, Old Bridge, Piscataway, New Brunswick, and all across New Jersey. Call (732) 906-1500 or fill out our online contact form today to schedule a free consultation about your work injury case. Our main office is located at 1862 Oak Tree Road, Edison, NJ 08820, and we also have offices in Edison, Brick, Freehold, and Point Pleasant Beach.
The articles on this blog are for informative purposes only and are no substitute for legal advice or an attorney-client relationship. If you are seeking legal advice, please contact our law firm directly.