Motorcycle Helmet Laws and Recovery for Injuries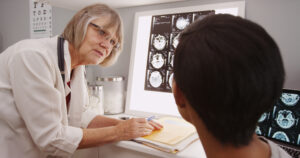 When it comes to motorcycle accident injuries, the most catastrophic injuries are ones that involve the head. That is why many states have laws in place that require motorcycle riders to wear a helmet. Some states make all riders wear a helmet, while others require riders of a certain age to wear helmets. Wearing a helmet is clearly a worthwhile step to take when riding a motorcycle, but it can also make all the difference in you being able to recover damages for any neck or head injuries you may have suffered in a motorcycle accident accident.
Wearing a Helmet Impacts Your Ability to Recover Damages in a Motorcycle Accident Lawsuit
There are many different scenarios where helmet laws will impact what you can recover in a motorcycle accident lawsuit. If you were wearing a helmet and did not suffer a head or neck injury, or you were not wearing a helmet and did not suffer a head or neck injury, then whether you wore a helmet is legally irrelevant to your personal injury claim.

Now, let's say that you were not wearing your helmet in a state where it is not required and you suffered a head or neck injury. Even though the state does not require you to wear a helmet, not wearing a helmet will make it difficult to recover for your injuries. This is because you not wearing a helmet most likely contributed to the severity of your injury, meaning you are comparatively negligent in the incident. You will be found partially responsible for your own injuries. In order to avoid having your compensation reduced, you might have to prove to your insurance adjuster that you would have suffered a head or neck injury even if you were wearing a helmet.

Finally, if you were not wearing a helmet in a state that requires you to do so, and you suffered a head or neck injury in a motorcycle accident, it will be nearly impossible to recover damages. This is because failing to follow the law automatically establishes your comparative negligence. As circumstances vary from situation to situation, hiring the right attorney can go a long way in helping you recover damages.
Attorneys Help Motorcyclists Injured in Brick, New Jersey
Motorcycle accidents differ greatly from other motor vehicle accidents. That is why it is important to get an attorney who is well-versed in motorcycle accidents and related injury claims. In New Jersey, the law firm of Lombardi & Lombardi has attorneys with the knowledge and experience to determine the facts of your motorcycle accident. We will build a strong case to represent you, and we will fight to make sure you are compensated properly for any losses incurred as a result of your motorcycle accident. We represent motorcycle accident victims in Brick, Edison, Toms River, Point Pleasant, Woodbridge, and throughout New Jersey. To learn more, fill out the online contact form today.
The articles on this blog are for informative purposes only and are no substitute for legal advice or an attorney-client relationship. If you are seeking legal advice, please contact our law firm directly..