Smart Phones and Technology Cause Car Accidents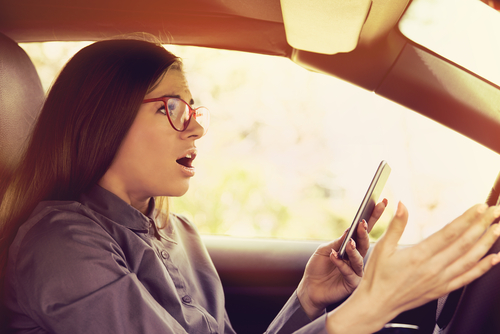 Thanks to the Internet and our smartphones, we literally have the world at our fingertips. We can effortlessly stream music, search for directions and communicate with friends across the globe no matter where we are.
While this technology has incredible benefits, it can also cause serious problems when people get too consumed. Thousands of Americans admit to using their smartphones even when they're doing other tasks that require their attention, like driving. As you can imagine, smartphone use while driving often results in a crash.
Distracted Driving is the Driver's Fault
There's no doubt that technology and smartphones are addictive. When you hear that little notification noise, it's a habit to immediately reach for your phone to see what's new. Despite this instinct, it's not okay to look at your phone while you're driving.
Using your phone while you're behind the wheel is illegal in some states. In New Jersey, you're prohibited from using your smart device to talk, e-mail or text while you're driving. If you're caught committing this offense, then you'll face a $200-$400 fine.
A fine could be the least of your concerns, though. While you're looking down at your smartphone, you're not looking at the road. That makes a collision much more likely to happen. If you were using a cellphone at the time of a crash, then you're on the hook for all the financial fallout. You'll be found at-fault for the accident, and your insurance company will likely raise your auto insurance rates.
Getting Compensation After a Distracted Driving Accident
It's infuriating to know that another driver put your safety at risk for the sake of using their phone. Thankfully, you have legal recourse when the other driver's distracted behavior leads to an injury.
First, you need to hire an attorney to discuss the specifics of your case. Then, you should start collecting proof of your accident and the losses you suffered. After a car crash, you likely suffered property damage. You likely needed medical care for your injuries, and you may have missed work dealing with everything that's happened. All these losses can be recovered in the courtroom. Hire representation to help you calculate the overall value of your claim.
Contact an Edison Personal Injury Lawyer to Discuss Your Distracted Driving Injury Case in New Jersey
Did you or a loved one sustain serious injuries due to a distracted driving accident in New Jersey? Don't let the medical bills pile up while you wait for the negligent party or their insurance company to do the right thing. Right now, you need an aggressive personal injury attorney on your side, fighting to get you the compensation you need, want, and deserve. The skilled attorneys at Lombardi and Lombardi, P.A., represent clients injured because of distracted drivers in Edison, Freehold, Brick, Point Pleasant Beach, and throughout New Jersey. Call 732-564-7165 or fill out our online contact form to schedule a consultation about your case. We have an office conveniently located at 1862 Oak Tree Road, Edison, NJ 08820 as well as offices in Freehold, Brick, and Point Pleasant Beach.
The articles on this blog are for informative purposes only and are no substitute for legal advice or an attorney-client relationship. If you are seeking legal advice, please contact our law firm directly.